This year Wildwood was thrilled to work on the PR campaign for high-end interior design exhibition Decorex. The event is a real highlight of the luxury design calendar and this year it did not disappoint. Over 12,000 visitors walked the busy show floor to view the expertly curated collection of over 200 exciting interior brands. Master craftspeople showcased their new collections, beautiful products and allowed visitors to get hands-on with their designs. We had a phenomenal four days showcasing the highlights of Decorex to the media and we loved exploring all the features of this year's show – from diningscapes to design talks.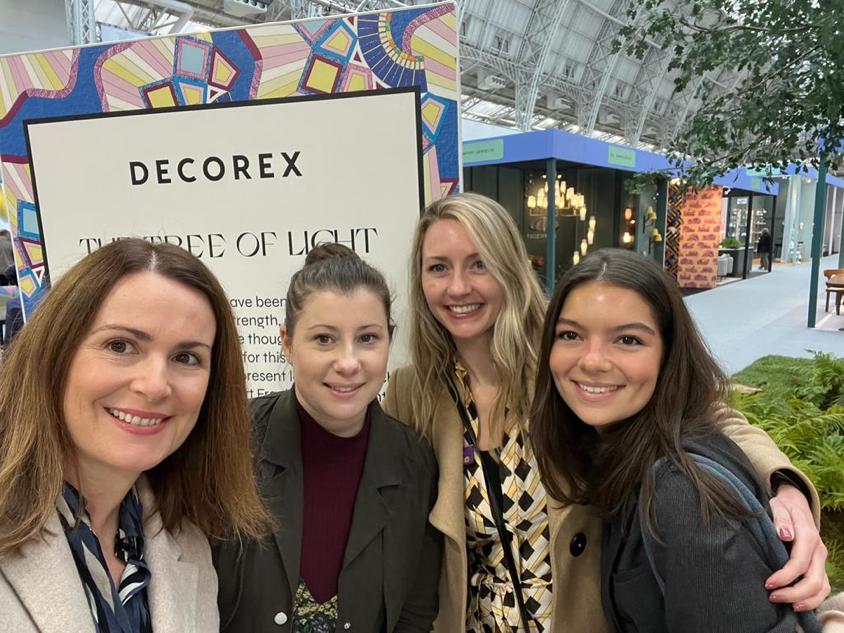 At the entrance of Olympia, we were met by a vast array of beautifully curated exhibitor stands, each of them a spectacle in their own right. On the mezzanine floor, we watched in awe at the 'Making Spaces' craftspeople running live demos, showcasing their skills and allowing us to get hands-on and try it ourselves – this proved to be very popular among all attendees! Decorex Diningscapes was another new feature at Decorex this year situated upstairs, that showcased four expertly designed room sets crafted by leading interior designers Christian Bense, ND Studios, Pandora Taylor with Bonadea and Bertrando di Renzo with Les Ottomans. Each of the incredibly beautiful sets left us with an urge to go home and revamp our own dining room!
Decorex Design Talks returned this year and were yet again a HUGE hit. Whether it's growing your business, delving into the future of the textile industry or listening to the founder of Mulberry talk all things fashion & interiors – The Design Talks had you covered! The talks theatre sponsored by Cole & Son was consistently full, as interior design enthusiasts listened eagerly to industry experts talk about all things design.
When seeking a place for rest and relaxation or perhaps a catch-up with journalists or other colleagues in the design community, the Decorex bar designed by duo Carden Cunietti and the VIP Lounge designed by interior design studio De Rosee Sa proved to be the perfect spot.
Decorex 2022 was a huge success, and we are delighted to have been part of such a wonderful event.