With working from home now a reality for so many employees, what's best practice for home office design? We invited British Institute of Interior Design Registered Interior Designer®, Chloe Bullock from Materialise Interiors, for advice.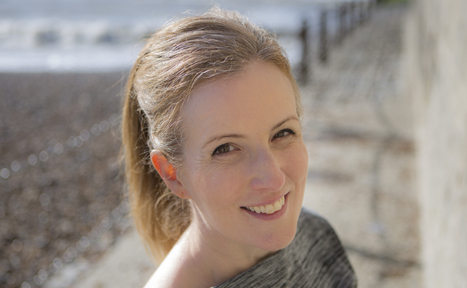 What's wrong with using a dining table and chair?
As you'll see in this video from Posture People, dining tables are designed to be around 3cm higher than a desk.  Couple that with a shorter person sitting at the table – you will then create some wrist pain problems. 
Invest in a quality office task chair. This means you have the height adjustment to compensate for any difference in worksurface height. These chairs have casters rather than four legs for a reason. The easy rolling movement and ability to easily adjust position is really important to help avoid back pain. Almost every home workstation I have seen photographed online recently features four legged chairs. I know this is done for aesthetics – but please put your health and wellbeing first. You CAN buy aesthetically pleasing task chairs.
For added comfort – look for a back that is not fixed to the seat so there is extra adjustment and added lumbar support makes the chair extra comfortable too.  Arms are a personal preference but it depends how frequently you sit back from the desk.  I really like Herman Miller chairs as they are purpose-designed, repairable, and hold a resale value. You can even sell them back to Herman Miller at the end of their life.  THAT'S sustainable design in action!  Here's my source for pre-loved HM chairs.
Laptops
Laptops really aren't great for longer term working, especially if you're using the built-in mouse and keyboard. A quick improvement would be to raise the laptop on a stand and use it as a monitor only – make sure your eye level is at the top of the screen. Then use a separate mouse and keyboard. There's a whole host of pieces and equipment available from Posture People to adapt the furniture you have.
Movement
Get up and walk about once an hour. Try and do some stretches. While sitting, make yourself Y shaped by holding your arms straight above your head and gently lean back – repeat a few times a day. Roll your shoulders backwards and forwards.
Lighting
Sit near a window both to benefit from the view of the garden (biophilic wellbeing benefits) but also to maximise your daylight exposure to help your body's circadian rhythm (our sleep cycle). Try to sit at an angle to the window (90 degrees, ideally) to avoid any glare on your screen. Get the lighting right. You may only have a central ceiling pendant light – in which case, it's much better to use a task lamp in your work area instead.
About Chloe Bullock and the British Institute of Interior Design
Chloe creates animal-friendly, human-friendly and planet-friendly interiors, supporting both entrepreneurs and homeowners. She designs with a focus on sustainability, health and cruelty-free specifications. She is a FitWel® Ambassador and a keen follower of human-centric, healthy design – using standards, such as, WELL building standard, Building Biology as well as FitWel® to ensure spaces are healthy for the users.
Prior to setting up Materialise Interiors nearly 15 years ago, she was part of The Body Shop team delivering ethical global store concepts and specifications. Her ongoing commitment to environmental awareness, sustainability using circular economy principles and cruelty-free specifications learnt at The Body Shop, has translated into her own interior design business. She was the first interior designer in the UK to be VEGANDESIGN.ORG CERTIFIED™. She is also a fellow of the Royal Society for the encouragement of Arts, Manufactures and Commerce.
The British Institute of Interior Design is the pre-eminent professional organisation for interior designers in the UK. Its growing membership represents both the commercial and residential sectors, from heritage to cutting edge. In addition to rigorous entry requirements which assess training, experience and professionalism, the Institute requires members to continue their professional development throughout their career, ensuring their continued expertise in design process, practice and regulatory matters.
It is the only professional organisation for interior designers to have been granted the prestigious accolade of Institute status by the Secretary of State. In the UK, the BIID is a full member of the Construction Industry Council and, as such, is part of Government consultations to advise on new policy and legislation. Internationally, the BIID is represented on the board of the International Federation of Interior Architects and Designers.