As the agency representing KBB, Europe's leading Kitchen, Bathroom and Bedroom industry show, and the British Institute of Interior Design (BIID), we've connected both clients with this piece from BIID Registered Interior Designer®, Nicola Burt from Nicola Burt Interior Design, offering practical advice on good kitchen design.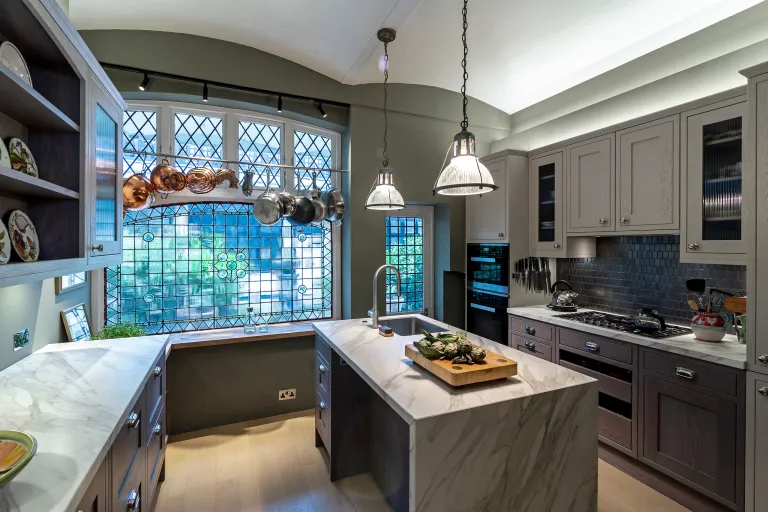 The first thing to think about when planning your new kitchen is practicality. Not only does it need to look beautiful, your new kitchen needs to work as hard as possible for you!
So, my advice is to make a list of your requirements and focus on how you and everyone in the household will use the kitchen at various points during the day. Also think about how you use the kitchen during less busy times – dinner parties, entertaining and those occasions where families gather together and celebrate.
Work out how much storage and worktop space you need.
Consider the 'working triangle' – the sink, hob and fridge should ideally sit within a triangle for ease of access, prepping and cooking.
All this will help you with functionality and layout. Consider your must-haves. Do you need a large, full-height American style fridge, for example, if you are a busy family household? Or, perhaps, a top-notch coffee machine if you love a decent coffee first thing in the morning! Is a wine fridge a must-have because you entertain frequently? What about shelf space for cookery books and an island, if space permits, for breakfast, kids' homework, or a glass of wine with a friend in the evening? How useful might a hot water tap be so that you don't have to boil the kettle? And what are the advantages of freestanding versus integrated appliances?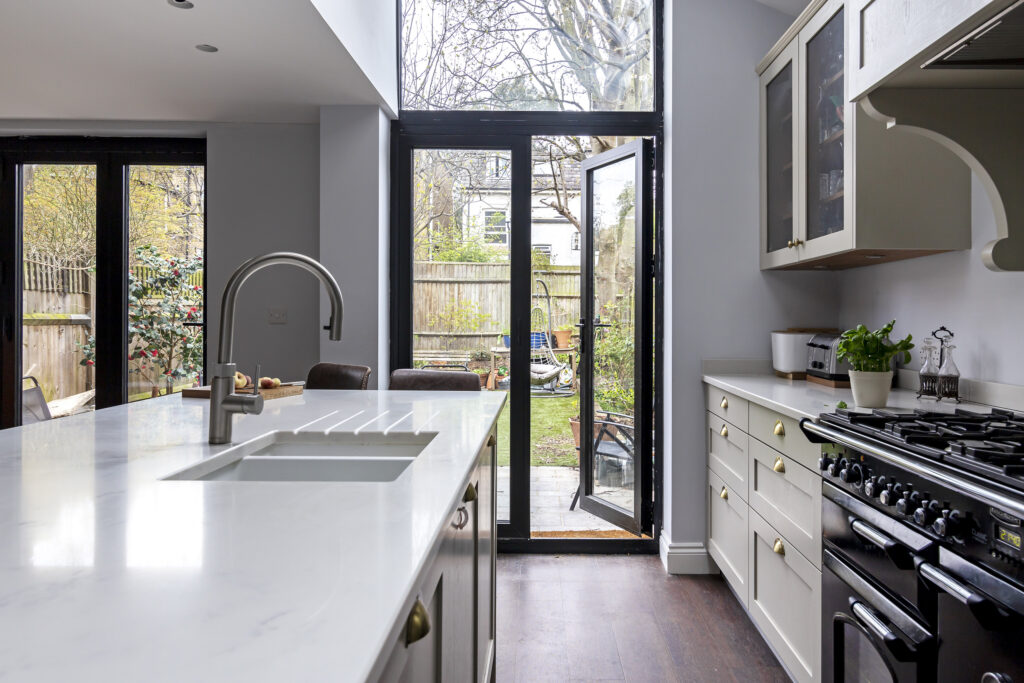 Kitchen Layout
The next thing to consider after you have worked out your ideal layout is style.
Do you want a traditional style kitchen or a sleek, modern one? Do you need fixed units or freestanding? Are you after a clean, urban look or something, perhaps, more industrial?
There are so many different styles on the market, and kitchen trends evolve and change over time. Your kitchen should last you for at least 12-15 years so it pays to do your research and find a style you will be happy with for quite a while!
Once you have decided on the overall style of your kitchen, the next things to consider are:
Worktop and splashback finish – current trends for materials include Quartz, Corian, Neolith and Concrete.
Taps and handles –chrome, brass, gold and rose gold are all popular on-trend finishes.
Flooring – the flooring material, whether wood or tile, should be resilient and easy to clean and maintain.
Lighting – different types of lighting are required in a kitchen. General lighting for good overall light, task lighting for carrying out tasks, such as, food preparation, and ambient lighting for atmosphere, such as relaxing or entertaining.
Window treatments – These need to be primarily functional to control light, for privacy at night if required, repel cooking odours and be easy to clean.
A trade event, such as, KBB will showcase all the latest trends in kitchen design and is a fantastic resource and ideas showcase for kitchen and interior designers, like me, working with their clients to make the kitchen a warm, attractive and practical space?
About Nicola Burt and The British Institute of Interior Design
Nicola Burt is an Interior Designer and Interior Design Tutor. She established Nicola Burt Interior Design in 2005. Based in Southwest London, we undertake mainly residential projects and some small commercial projects. We love what we do and enjoy collaborating with clients to help them create beautiful spaces in which to live, work and play. We believe good design is for everyone, and where we live and work should be positive and uplifting places. Nicola is a Registered Interior Designer® with the BIID. The British Institute of Interior Design is the pre-eminent professional organisation for interior designers in the UK. Its growing membership represents both the commercial and residential sectors, from heritage to cutting edge. In addition to rigorous entry requirements which assess training, experience and professionalism, the Institute requires members to continue their professional development throughout their career, ensuring their continued expertise in design process, practice and regulatory matters.
It is the only professional organisation for interior designers to have been granted the prestigious accolade of Institute status by the Secretary of State. In the UK, the BIID is a full member of the Construction Industry Council and, as such, is part of Government consultations to advise on new policy and legislation. Internationally, the BIID is represented on the board of the International Federation of Interior Architects and Designers.