You might have noticed that Wildwood has evolved. For the last nearly 29 years, we've been incredibly active under the umbrella 'Wildwood PR' – and you may know us for great PR campaigns, but do you know we offer PR plus video production, plus media buying and advertising, plus social media campaigns…plus digital marketing and so much more….
So we've decided to refresh our brand – we are still Wildwood PR – but now Wildwood PLUS so much more….
We've recently refreshed our brand to reflect the range of content creation and management services we offer, in addition to our award-winning PR campaigns.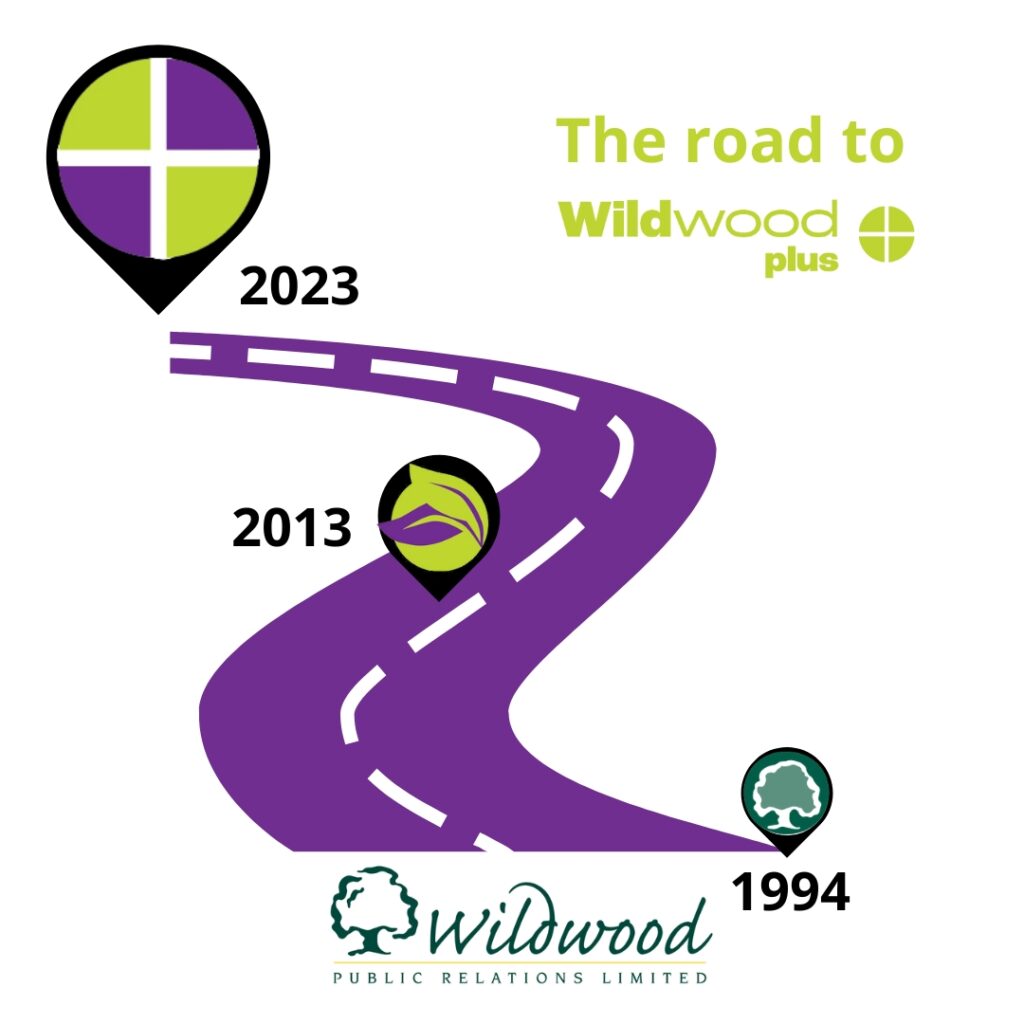 The fast-moving digital landscape is driving organisations to engage and interact with their audiences in new and exciting ways. We have fully embraced this evolution, creating innovative video, audio and digital content to support the PR services we provide. Moving from Wildwood PR to Wildwood Plus describes more accurately what we do – we're a 'one-stop' shop for our clients' marketing needs.
You might not know about all the services we provide, so here's a quick recap. Wildwood Plus offers:
PR Expertise
Our team connects creative thinking and media knowledge to build fully integrated PR campaigns that reach your target audience. We get right under the skin of your brand, using our insights and experience to build intelligent, strategic and people-focused campaigns that deliver real commercial value. Whether it's a bespoke project or a long-term campaign, we create exciting, specialist content that's right for relevant digital and print media channels.
Digital Marketing
We build, plan and deliver solutions that cut through to reach your digital audiences, from engaging advertising campaigns to website creation and copy writing. We create and schedule relevant, rich content for your social media platforms, and engage directly with your customers to help build brand personality and grow your audience.
Impactful Video and Animation
Our video content is carefully developed to engage, excite and inspire audiences. We plan and execute every detail of your production. From the initial creative concept and messaging, through to storyboarding, direction, editing, post-production, and delivery for social, web and online use.
Powerful Podcasts
Podcasts offer a great medium to reach consumer and B2B audiences. We not only create concepts but also manage, script, host, edit and distribute a series that can talk directly to your target audience using audio only and YouTube platforms. Our expertise extends to sponsorship sales and messaging and the provision of detailed analytics, to help you build and grow your audience over time in support of brand and business objectives.
Exciting Events The Wildwood team plan and deliver a wide range of campaigns for events and we have a really exciting schedule for 2023! From managing client events to growing visitor numbers for international trade shows, driving entries for high-profile award schemes and more, we've worked on events of all shapes and sizes. Whether you need industry insights to help curate inspiring panel discussions or management of an online press conference, then our expert teams can help with all aspects of your event.